This year at CHI2022 we will be presenting our work that explores how the design of crowdworking platforms impacts the amount of temporal flexibility experienced by workers on the platforms. You can see the Late Breaking Work paper here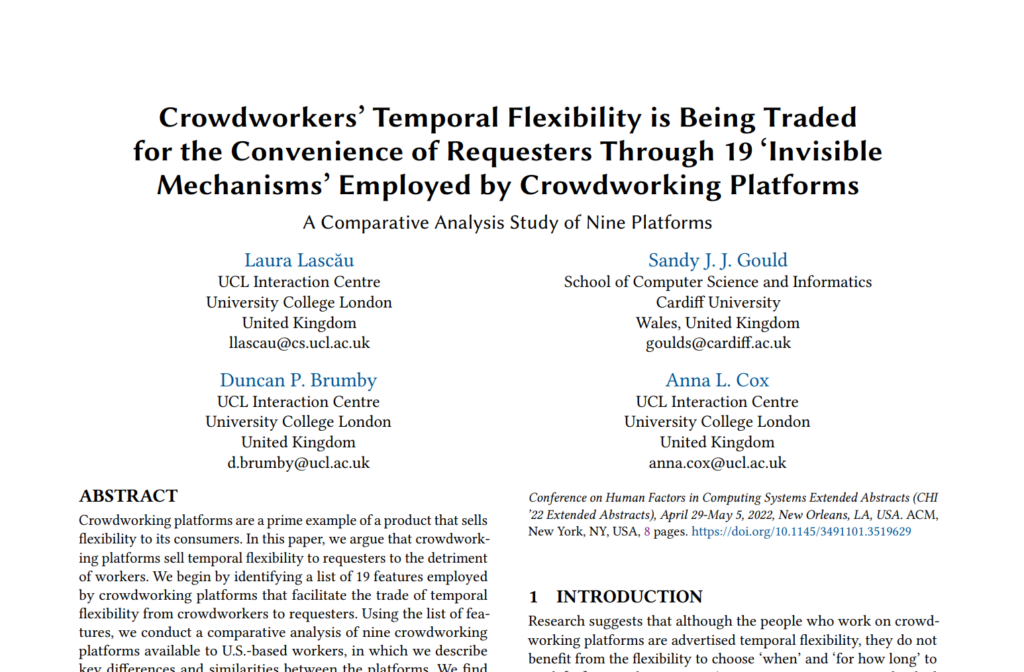 We find that:
Crowdworking platforms strongly favour features that promote requesters' temporal flexibility over workers' by limiting the predictability of workers' working hours and restricting paid time. The results of our study show the different ways in which the values held by the customers of the technology (i.e., requesters), instead of the values of those impacted by the technology (i.e., workers), can be embodied consciously or unconsciously by technology
Using the temporal precarity scores that we calculated, we identified which platforms available to U.S.-based workers employed the highest number of features that facilitated the trade of flexibility from workers to requesters, consequently increasing workers' temporal precarity. These are useful for two reasons. First, the people working on crowdworking platforms can benefit from having increased awareness about the exploitative mechanisms of crowdworking platforms, although they might have little power to change them. Second, requesters can also benefit from reflecting on the power asymmetries perpetuated by crowdworking platforms when choosing which platforms to use in their work.
You can watch a 3 minute video summary of the paper here: